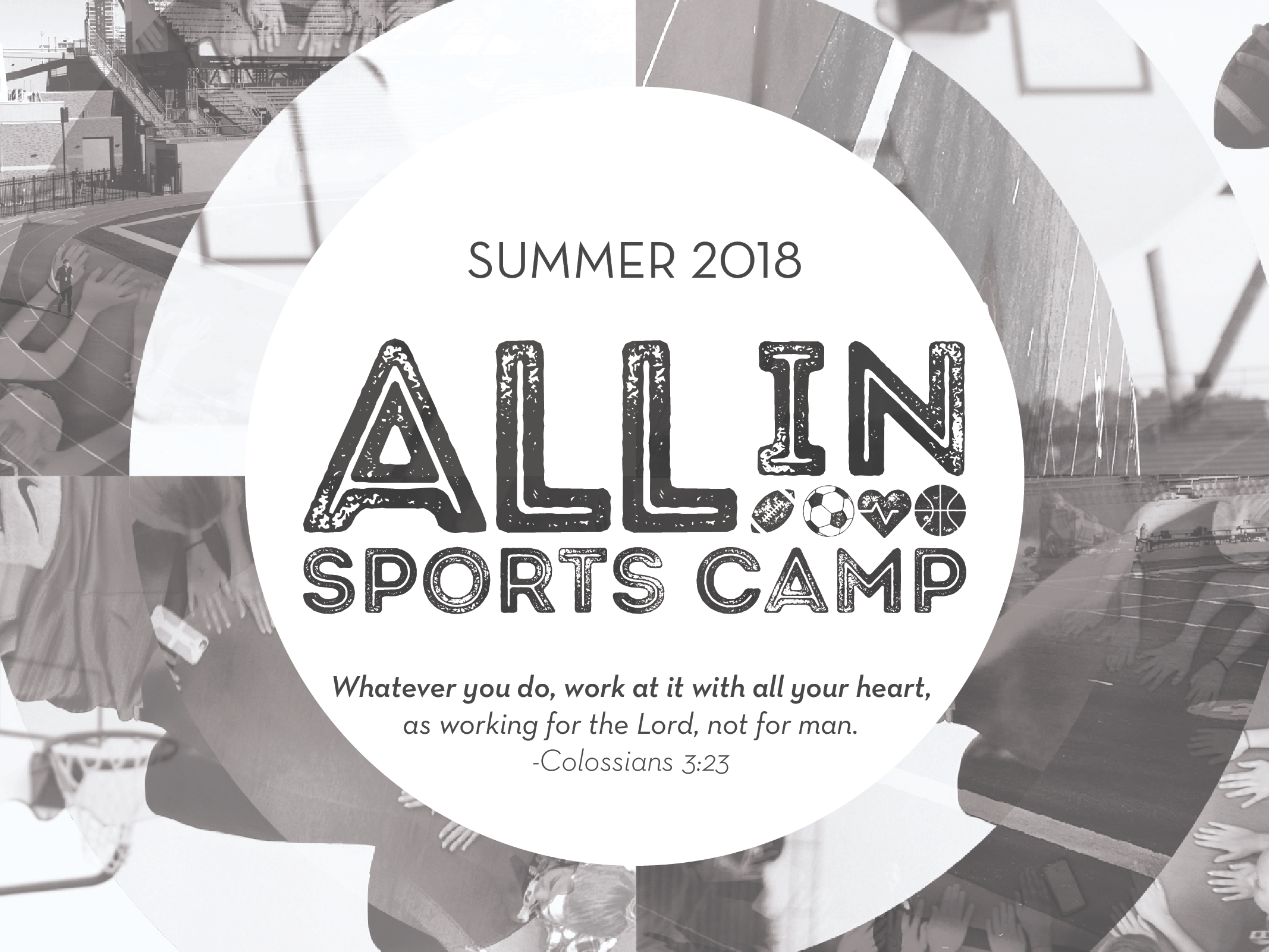 Jun 18

Monday
9:00am

Jun 21

Thursday
12:00pm

Jun 18

Monday
3:30pm

Jun 21

Thursday
5:30pm

Jun 25

Monday
9:00am

Jun 28

Thursday
12:30pm

Jun 26

Tuesday
5:00pm

Jun 28

Thursday
7:30pm

Aug 6

Monday
8:00am

Aug 9

Thursday
11:00am
All In Sports Camp
Jun 18

Monday
9:00am

Jun 21

Thursday
12:00pm

Jun 18

Monday
3:30pm

Jun 21

Thursday
5:30pm

Jun 25

Monday
9:00am

Jun 28

Thursday
12:30pm

Jun 26

Tuesday
5:00pm

Jun 28

Thursday
7:30pm

Aug 6

Monday
8:00am

Aug 9

Thursday
11:00am
WHO: 10-14 year old students
COST: $60/camp $25/Father/Son Camp (Sign up before 5/15 for Early Bird Price!)
WHERE: Orchard Hill Church
Times of the event are subject to change.
ALL SALES ARE FINAL.
Please register each participant for the event they will be attending. List ALL of the names of participants in the section "Who's Attending" with what event they will be participating in.
Camps will be run at Orchard Hill Church!
Girls Basketball (9-11:30am) : June 18 - 21
Boys and Girls Soccer (3:30-5:30pm) : June 18 - 21 (POSTPONED UNTIL FURTHER NOTICE)
Father/Son Camp (5-7:30pm) (Age 6-11) : June 26 & 28
Boys Basketball (9-11:15am) (10-12 year olds) : June 25 - 28
Boys Basketball (10:30am-12:45pm) (13-14 year olds) : June 25 - 28
Cross Country (8-11am) : August 6 - 9
Payment is required at time of registration. If you are unable to pay online please contact Matt Henson at mhenson@orchardhillchurch.org
Check out our event website page to see more event details.
Attendee Types
$0

–

Camper

Full

$60

–

Girls Basketball (9 - 11:30am) (10 - 14 year olds) (June 18-21)

31 remaining

$25

–

Father/Son Camp (5 - 7:30pm) (STUDENT age 6 - 11)(June 26 & 28)

11 remaining

$25

–

Father/Son Camp (5 - 7:30pm) (Father/Guardian Registration)(June 26 & 28)

$60

–

Boys Basketball (9 - 11:15am) (10 - 12 year olds)(June 25-28)

30 remaining

$60

–

Boys Basketball (10:30am - 12:45pm) (13 - 14 year olds)(June 25-28)

33 remaining

$60

–

Cross Country (8 - 11am) (10 - 14 year olds)(August 6-9)
Optional Add-Ons
Boys Basketball Session 1 9am-11:15am (10-12yr olds) : $60
Father/Son Camp (Ages 6-11): $50